Hello thanks for stopping by my blog.  My post today is a card designed using one of Susan's Garden new releases at Elizabeth Craft Designs.  I think you could call it "simple but elegant".
Here is how it was made.
Card base is 4-1/4″ by 5-1/2″ made from white Soft Finish Cardstock.
From black shiny cardstock (also could use Shimmer Sheetz I was just trying to use up some of my scraps) die cut Joset Designs Diamond Background attach to card front using Kids Choice Glue.
Make 2 Garden Notes Dahlias from pink cardstock cutting each petal twice except the smallest and the center piece which you just cut once.  Using loop tool lay pieces face down on molding mat and pull tool down through petals then hold each petal with fine point tweezers (found in Susan's Garden 4 pc. Tool Kit) pinch each petal down around tweezers.  Assemble flowers using Kids Choice Glue stacking from largest to smallest off setting each layer of petals slightly.  Cut stems and leaves from green cardstock shade and shape.  Attach Dahlias to card front using Kids Choice Glue.
Using ModaScrap Stitched Fishtail (3rd smallest) from black shinny cardstock then from white Soft Finish Cardstock cut 2nd smallest ModaScrap Stitched Fishtail.  Attach white to black using Clear Double Sided Adhesive cut length to fit card.  Stamp Happy Birthday from Joset Designs General Sentiments Stamp set using black ink.  Attach to card front using dimensional tape.
Elizabeth Craft Designs Supplies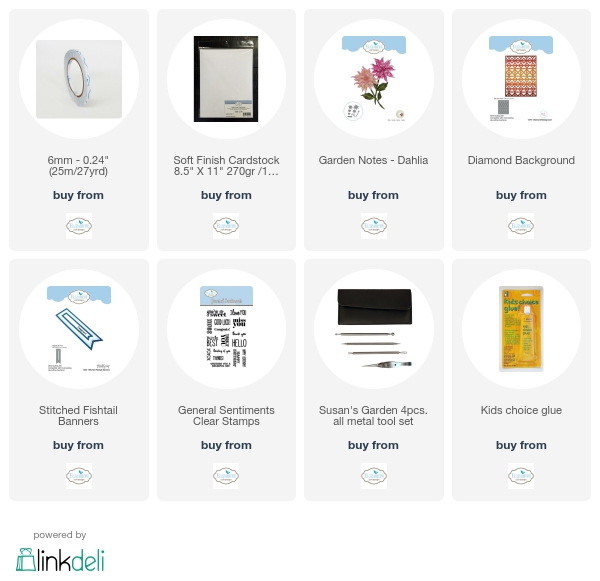 Other Supplies
Black shiny cardstock
Pink & Green cardstock
Black ink
I do hope you have enjoyed my tutorial today.  Be sure to visit Elizabeth Craft Designs to see all their great products.
Until next time – Happy Crafting!
Christine