Hello my crafty friends.  I don't know about you but I am so wanting spring to come but I know here in Maine we have a while to go so I am creating my own spring by making Susan Tierney-Cockburn's paper flowers.  My post today uses her new release Garden Notes Lilac 2 along with and her Garden Notes Ladder Fern from previous release.  I have also used ModaScrap's new release Romantic Bouquet.The "happy birthday" is from an older release of A Way With Words by Suzanne Cannon and all can be purchased from Elizabeth Craft Designs.
Here is how the card was created.
Step 1  Make card base by cutting white cardstock 6″ X 12″ score at 6″ fold on score line.
Step 2  Emboss card front using a large embossing folder.
Step 3  Using white Soft Finish Cardstock with Clear Double Sided Adhesive on top die cut ModaScrap – Romantic Bouquet and A Way With Words happy birthday.  Also cut happy birthday from black cardstock  with Clear Double Sided Adhesive on the back.
Step 4 using Silk Microfine Glitter – (Sea Glass used here) coat the Romantic Bouquet and the white happy birthday and burnish in.  Attach the Romantic Bouquet to bottom of card front using Kids Choice Glue.  Attach the happy birthday to the black happy birthday offsetting just a bit to give appearance of a shadow using Kids Choice Glue.
Step 5  Cut 1 set of Garden Notes Ladder Fern from green cardstock shade with Distress Inks and shape by laying fern on Leaf Pad. Take leaf tool from Susan's Garden 4 pc. all metal tool kit pull tool down center stem and each frond.  Using tweezers from tool kit hold center stem in tweezers and pinch up on fronds.
Step 6  Make 3 flowers and several leaves using Susan's new Garden Notes Lilac 2 die set using White Soft Finish Cardstock green cardstock for leaves and brown for the stem.  For the purple lilac a couple shades of purple Distress Ink was used on white Soft Finish Cardstock then die cut.  Susan has a video on her Facebook page Susan's Garden Club which you can see here.
Step 7 Arrange on card front using Kids Choice Glue to attach.
Hope you have enjoyed my post today and that it has inspired you to create your own.
For any of the Elizabeth Craft Designs products just click on the picture and it will take you right there.
Thanks for stopping by today and until next time – Happy Crafting!
Christine
"You only live once, but if you live right, once is enough"  author unknown

Elizabeth Craft Designs Supplies
U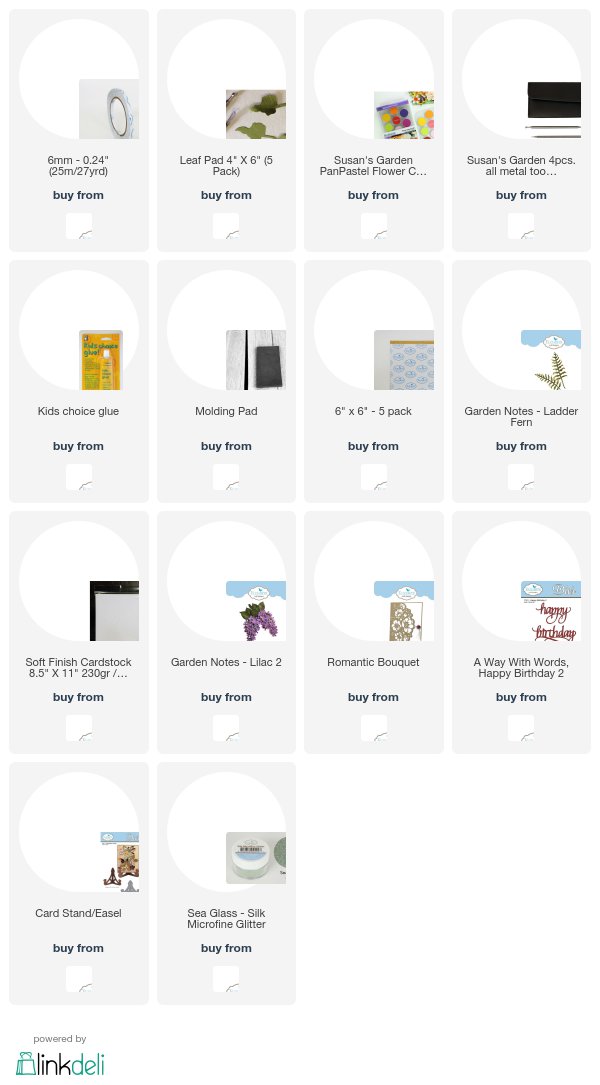 Other Supplies
Cardstock – 2 shades green, white, brown and black
Distress Inks
Large Embossing Folder