Welcome My Crafty Friends!
Today is another Focus Day on Elizabeth Craft Designs Blog.  The Design Team has been busy creating cards that are showcasing A Way With Words brand new release of dies.  I have chosen Miss You and Long Stem Rose to showcase.  Be sure to visit Elizabeth Craft Designs Blog at this LINK to see what other design team members have created using the new dies.
Here is how card was created.
Step 1  Form 6″ X 6″ card base.
Step 2  Cut patterned paper 6″ X 6″ using largest oval from newly released Garden Notes Frame It – Stitched Ovals die cut oval in center.  Attach to card front using Clear Double Sided Adhesive.
Step 3  From green cardstock cut set of Garden Notes Ladder Fern shade with ink shape by pinching up fronds around tweezers from Garden Notes Tool Kit.  Using Kids Choice Glue on just on lower portion of stem adhere to card front inside oval.
Step 4  From 2 shades of patterned paper using new release A Way With Words – Long Stem Rose die set cut rose then from green cardstock cut stem and shade with ink.  (I used the same paper that was used for the card front it happened to be 2 sided)  Assemble Rose & Stem using Kids Choice Glue.  When dry lay right side down on molding mat using medium ball tool from tool kit rub back of rose to give little dimension.  Adhere to card over ferns using Kids Choice Glue on stem and just very edge of rose.
Step 5  Cut twice A With Words –  Miss You once from cardstock with Clear Double Sided Adhesive on back once from dark cardstock once from coordinating cardstock attach coordinating Miss You over dark offsetting just a little to give shadow effect.  Attach to card front.
Step 6  Add pearls to corners.
Thank you for stopping by my blog today and hope that you have enjoyed this quick tutorial and be sure to pop on over to Elizabeth Craft Designs Blog at link above to see what other designers have created using dies from the new release of A Way With Words by Suzanne Cannon.
By Clicking on pictures below they will take you directly to Elizabeth Craft Designs shopping page.
Until next time – Happy Crafting!
Christine
Elizabeth Craft Designs Supplies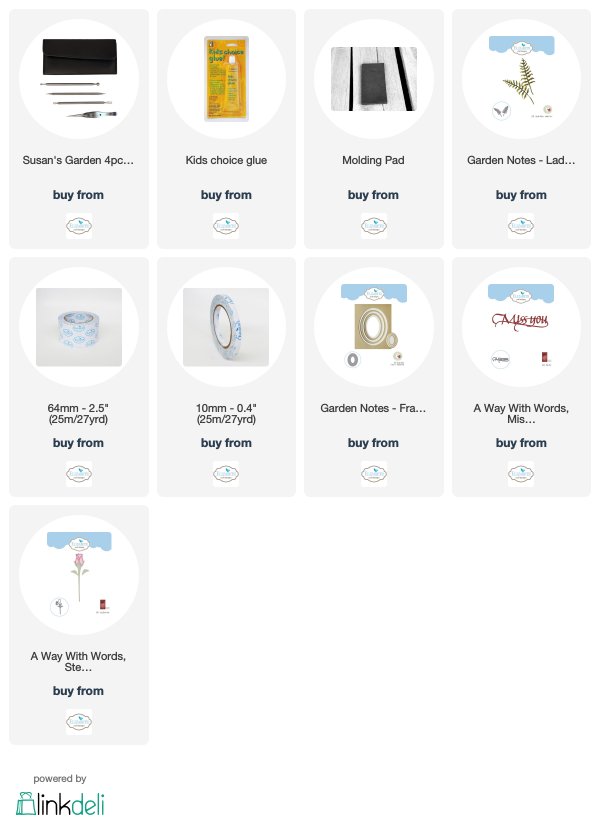 Other Supplies
Cardstock – Colonial white, green, peach
Patterned paper (Graphic 45 used here)
Adhesive backed pearls