Welcome my crafty friends so glad you stopped by today.  My creation today is a card I made for my boss's birthday using Susan's Garden Notes dies.
Here is how it was created.
Step 1  From brown cardstock with Clear Double Sided Adhesive on back die cut branch  twice using Garden Notes Berry Spray adhere 1 on top of other using red Nuvo Crystal Drops add berries to branch set aside to dry then add berries to back side then let dry.
Step 2  From green cardstock with Clear Double Sided Adhesive on back cut 2 stem using Garden Notes Lavender die set.  Die cut florets from yellow cardstock approximately 16 times.  Lay on hard rubber art eraser using toothpick cup each floret.  Using Kids Choice Glue add florets to branches front and back.
Step 3  Die cut, color and shape 3 sunflowers from white Soft Finish Cardstock using Garden Notes Sunflower 2.
Step 4  Using newly released Garden Notes Hosta die set cut several leaves from white Soft Finish Cardstock.  Color centers with green alcohol marker (Copics G97 used here) leaving outer edge white color same  on back.  Lay right side down on leaf mat using leaf tool from Garden Notes  All Metal 4 pc. Tool Kit put vein line down center..  On eight side fold on vein line pinch up lay right side down on molding mat using medium ball tool from tool kit rub end of leaf to soften and make it curl back.
Step 5  Die cut 2 Happy Birthday using Suzanne Cannon's Happy Birthday – small die set 1 from yellow cardstock 1 from black cardstock both with Clear Double Sided Adhesive on back of cardstock.  Adhere black over yellow offsetting slightly giving a shadow effect.
Step 6  Form 5″ X 7″ card base from white Soft Finish Cardstock.
Step 7  Cut 5″ X 7″ white Soft Finish Cardstock.  Using Garden Notes Frame It – Stitched Ovals die cut oval using third smallest die placing die approximately 1″ down from top.  Cut piece of patterned paper 4-7/8″  6-7/8″ (ModaScrap Wood Effect used here) adhere to back of cardstock with oval in it using Clear Double Sided Adhesive.  Adhere to card front using Clear Double Sided Adhesive.
Step 8  Build arrangement using Kids Choice Glue starting with golden rod then snip apart berry branch add them,  Next build sunflowers on card finishing with adding sunflower and hosta leaves.
Thank you for stopping by today I do hope you have enjoyed your visit.
All supplies used from Elizabeth Craft Designs are pictured below and they are linked to their site.
Until next time – Happy Crafting!
Christine
Elizabeth Craft Designs Supplies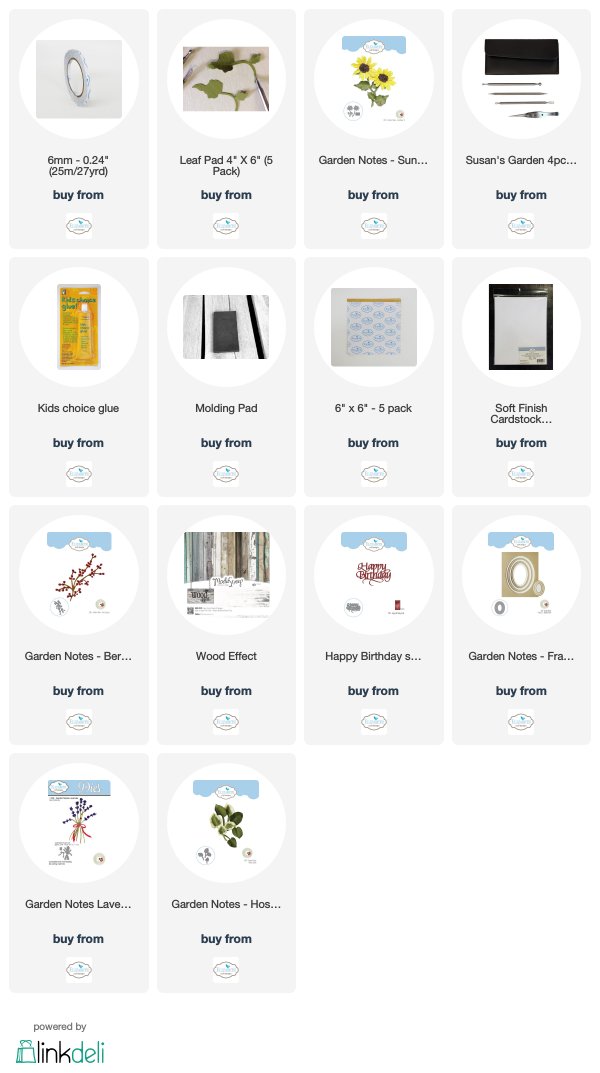 Other Supplies
Cardstock – brown, green, yellow, black
Copic Markers
Nuvo Crystal Drops – Autumn Red